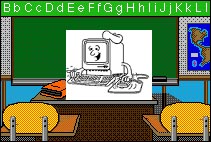 Building Web Pages
for Instruction
---
Table
of Contents

Evaluating WebSites CreatingTemplates
Lesson Planning
Linking Lessons
Going Live!!
Advanced Skills
Bibliography
Course Evaluation
---

Creating Templates for Your Site
Create a design for the web page
Designing elements

Set up -----2 folders on your disk in the A:/ drive (you may also want to make a temporary backup copy on the computer you are working on - just be sure to move that folder to the recycling bin when the class is over)

Icons - This folder will hold all your graphics (pictures)
html - This folder will hold all your Web pages

Planning -

Use the Planning Template - Think about your:

Audience (age level),
Purpose (is it for Research? to as Motivation? to build background knowledge? )and the
Main Ideas you want to cover in your pages

Fill in the File names for each of your pages,
And the Text you will use to create links on that page….

Next - Think about each page of your web site -- let the Template help you think about:

the Details you want on each page

What links you need to have to other pages

What graphics do you need to find or create for each page

Create the side bar links and the bottom links to other pages for fast manuever.
Don't Forget the copyright message, and the date the page was updated
Remember -- The more Planning you do now, the less time you will waste later….